Industrial AM printer manufacturer AON3D has created the AON-M2 3D printer.
AON-M2 is a large format, high temperature 3D printer made to produce engineering grade end-use parts for automotive, aerospace and healthcare industries.
Comparing AON-M2 with Stratasys 3D printers, the first is in a middle market alternative – his competitive advantage is the price point for professional quality AM printers, and can be bought online.
Kevin Han, AON3D's CEO at Rapid TCT 2018.
Kevin argues that "The printer is compatible with the highest-strength plastics available for 3D printing – like PEEK, and has a large build area to handle larger runs of parts."
End-use production
The new AM 3D printer was designed as part of AON3D's vision to make professional-quality 3D printing more accessible to businesses expanding and adapting their production capabilities.
Randeep Singh, co-founder of AON3D says that
"The fact that high-end materials are possible to work with is huge – it's the primary driver opening up end-use markets,"
based on  "…trend of people obtaining a 3D solution, and realizing how much more powerful it can be once they learn how to use it. As the AM solutions become more & more user friendly, we predict this trend to continue.", reaffirms Sing.
3D commited with any polymer
AON3D allows users to use any 1,75mm spool, is commited to the open materials system or develop their own feedstock for FFF. AON-M2, with dual extruders is a printer that works with multi-materials, enabling simultaneous extrusion of a primary material and soluble/breakway supports.
PEEK, PEI (ULTEM®), Nylon and Polycarbonate (PC) are examples for commodity and specialty plastics 3D printable by the AON-M2. To serve the demand for more performance materials AON3D is also working with developers, including Essentium Materials, in each class to produce the best possible filaments for its 3D printers.
PEEK and ULTEM brackets 3D printed on the AON-M2. Photo via AON3D
A replacement for metal components
The maximum temperature achievable in the AON-M2 hot end is above 500°C and the bed reaches beyond 200°C. The build chamber, with best-in class specifications only surpassed by Stratasys Fortus systems, can sustain a temperature of over 120°C.
The AM capability to 3D print with these conditions maximizes interlayer bonding, and reduce the possibilities of PEEK and Ultem to warp and crack. More accurate and stronger is the end result.
Tooling, jigs and fixtures to replacement components, advanced thermoplastics are strong enough to replace metal. In addition, 3D printed polymers benefit from a low cost-per part, material lightness, and high chemical resistance. In fact, one supported polymer, PPS Poly(p-phenylene sulfide) is invulnerable to any known chemical at temperatures under 200°C.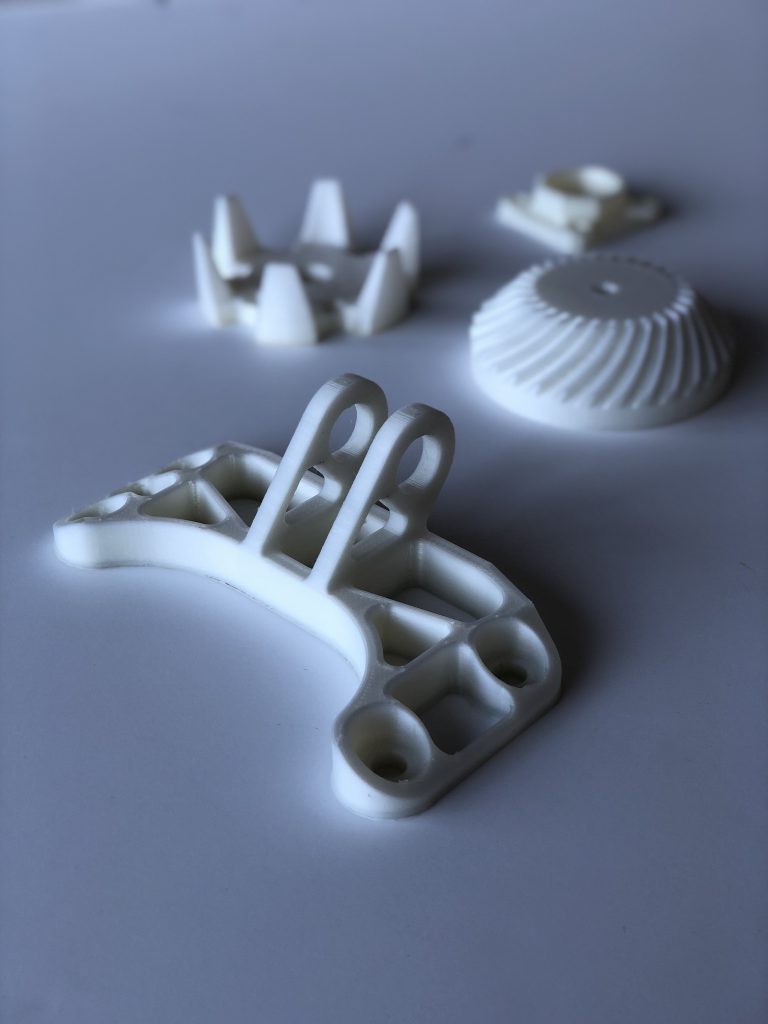 Full technical Specifications
Printing Technology: Fused Filament Fabrication (FFF)
Build Volume: "454 x 454 x 640 mm (18 x 18 x 25 in")
Max Speed: 500 mm/s
Z Layer Height: ≥ 0.05 mm to 0.5mm
Max. Temperatures
Hot End: 500°C+
Heated Bed: 200°C+
Build Chamber: 120°C+
Nozzle Sizes (mm): Hardened Steel: 0.25, 0.3, 0.4, 0.6 (default), 0.8, 1.0, 1.2
Filament Size (mm): 1.75
Materials: PEEK, PEI (ULTEM®), PPSU, PSU, Nylon, PC, TPU, TPE, PETs, HIPS, PVA, ASA, ABS, etc. Carbon or other fiber filled variants of the above. Various soluble and breakaway support materials.
Software & Connectivity
Slicer: Simplify3D License with two floating seats
Control Interface: LCD control screen. WiFi enabled. Ethernet. USB.
Mechanical
Build Plate: ALCA 5 precision aluminum. Hot-swappable
Toolheads: Dual, fully independent
Drivetrain
XY Resolution XY: 0.025 mm (theoretical)
Z: 0.001 mm (theoretical)
Electrical
Supply Voltage: 208-240VAC, 20A, 50/60Hz, single phase
Outlet: NEMA 6-20
Physical
Weight: 265 kg / 868 lbs
Height: 1450 mm / 57in,
Width: 955mm / 37.6in
Depth: 965mm / 38in – Delivered depth is 835mm / 32.9in; without door 805mm/31.7in
Environment
Max Room Temp: 28°C
Humidity: < 80%
ABOUT AON3D
The mission of AON3D has always been to facilitate creating parts that would otherwise be unfeasible – either financially, or technically. The all new M2 lowers the barrier even more by providing the essential features required for printing high performance polymers, at a fraction of the cost of comparable industrial machines.
Article: https://3dprintingindustry.com/news/aon-m2-high-temp-3d-printer-launch-technical-specifications-pricing-130332/ , visited on 18th March 2018.

Image:
Featured Image: Kevin Han photo: https://3dprint.com/173871/rapid-tct-day-two-2017/- Kevin Han Photo, AON3D Rapid TCT, visited on 18th March 2018
Other image photos: https://3dprintingindustry.com/news/aon-m2-high-temp-3d-printer-launch-technical-specifications-pricing-130332/ , visited on 18th March 2018.
additivenews.com