Additive Manufacturing is used in a lot of different sectors. Thanks to the State of 3D Printing 2018 study, we had the opportunity to analyze the different uses of Additive Manufacturing for different sectors. We already saw the use of 3D printing for the industrial goods sector, but in this blog post, we are going to focus on consumer goods. This study actually helps us to get a great overview of the use of additive manufacturing in this sector. 57% of our respondents saw a greater ROI on their 3D printing activity, thus we can say that the additive manufacturing technology is a real asset for this sector. The use of additive manufacturing for consumer goods seems quite promising. Let's see more in details how this sector is making the most of this technology.
A growing number of 3D printing beginners in this sector
If we take a look at the consumer goods sector, we can see that there are more beginners (16%) and intermediate users (53%) using the Additive Manufacturing technology in this sector, compared to industrial goods and aeronautics, two other sectors we also focused on in State of 3D printing. This sector starts to see the advantages of this technology, and it is also starting to use 3D printing for various applications, for prototyping, but also more for production. Moreover, 73% of the respondents are dealing with 3D modeling by themselves. Thus, they are learning and developing their own Additive Manufacturing skills.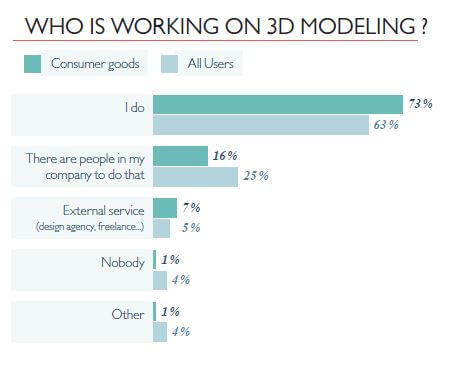 Advantages of Additive Manufacturing for the consumer goods sector
Mass customization and small batches
Offering customized products and small series is a big priority for 30% of our respondents in this sector.
Additive Manufacturing is allowing to work on complex geometries and elaborated designs, which is a real advantage for this sector, as products sometimes have to be adapted to customers. It is making it easier and cheaper to print small batches and, for the consumer good sector, it is actually a huge benefit to get the possibility to print custom made products this easily.
Costs and lead time reduction
Acceleration of the product development process is also a priority in this sector for 32% of our respondents. By improving their prototyping and production process, they are actually saving time, developing projects faster, and saving money by using cheaper materials and an efficient manufacturing process.
Companies can develop elaborated designs faster using efficient 3D software, and make many iterations in no time. It is a real asset in this sector. (Learn more about 3D Software for Industry)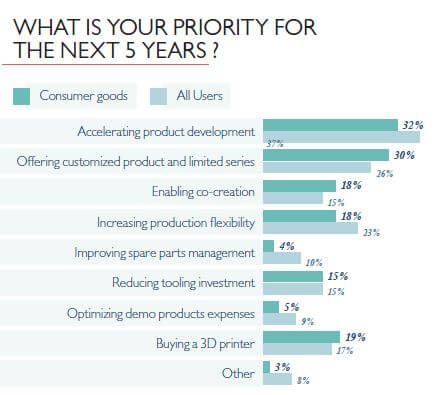 How does the consumer goods sector use additive manufacturing?
3D printing with plastic
Plastic is used by 74% of our respondents. It is clearly the most convenient material, allowing to work on complex designs, but it is also a good material to reduce costs. Indeed, plastic is one of the cheapest materials on the market. On our online 3D printing service, the cheapest option is the non-dyed Multi Jet Fusion PA12. This is the perfect solution if you want to lower the costs of your prototyping process for example. It is also possible to produce using a plastic material, it is possible to get really good results, that is why this material is so useful for the consumer goods sector. Moreover, plastic materials can be used for various applications, and to develop all kind of products.
Sculpteo are offering a lot of different plastic materials for your additive manufacturing projects. Visit Sculpteo Blogspot and start an Additive Manufacturing project.
Related article categories:
Industry Insights

Article and featured image:

Source: Sculpteo, Jul 17, 2018, https://www.sculpteo.com/blog/2018/07/17/state-of-3d-printing-improving-the-consumer-goods-manufacturing-process-thanks-to-3d-printing/ ;

3D Print.com https://3dprint.com/138695/sculpteo-solid-black-plastic/ , visited on Jul 19, 2018;